WWE will air a brand new episode of Friday Night SmackDown on Christmas night, but it won't be live. The company is taping SmackDown a few days early, and we have the spoilers right here.
This is your official spoiler warning. Everything from this point on will spoil the Christmas Day episode of Friday Night SmackDown.
We are also posting spoilers to our brand new Reddit page. Click here for that link.
WWE already announced three title matches for this week's SmackDown. Sami Zayn will defend the IC Title against Big E. Their match is now a Lumberjack Match.
Charlotte Flair and Asuka will defend their WWE Women's Tag Team Titles, but no opponent has been revealed yet. Also, Roman Reigns and Kevin Owens will battle in a Universal Title steel cage match.
They will likely have plenty more in store for fans. Some things might be inserted in post production, or taped in a backstage segment not seen by the ThunderDome crowd.
The spoilers will begin in just a few minutes, and we will keep these results live. So, keep refreshing and we will continue filling in the spoilers as the company continues.
The call-time was 6:15 for the ThunderDome, and the show will start at 7:00 PM.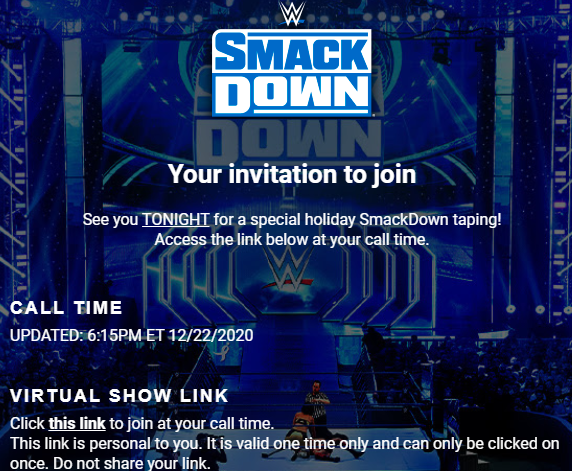 Roman Reigns vs Kevin Owens – Universal Title Cage Match
They have a lengthy match. Roman Reigns slammed the cage door on Kevin Owens' face. Jey Usos is apparently up there and handcuffed Owens to the cage. The match went through at least two commercial breaks.
Roman Reign retains the Universal Title
Charlotte and Asuka are up next
The WWE Women's Tag Team Champions come to the ring, and out comes Bayley. Out comes Sasha Banks. There is a moment where Sasha Banks' title belt fell down and Bayley laughed. Carmella comes out, and she's tagging with Bayley.
Bianca Belair & Sasha Banks vs Bayley & Carmella vs Asuka & Charlotte – WWE Women's Tag Team Titles Elimination Match
Bayley and Mella are out first as Banks pinned Bayley. Flair pinned Belair with Natural Selection for the win to retain the titles.
Asuka & Charlotte Retain
The Street Profits got Sami Zayn a gift for Christmas. It's his "I Am The IC Champion" shirt, but they put "Was" over it. Nice segment for the Holidays.
Jey Uso vs Daniel Bryan
This match goes a pretty good amount, possible two commercial breaks' worth of solid wrestling. Daniel Bryan won. This match was supposed to be on TLC, but they saved it for Christmas. The same is the case for the main event.
Daniel Bryan wins
Sami Zayn vs Big E – IC Title
This lumberjack match came in handy as Sami Zayn tried to run away, but they carried him back. Then Big E hit the Big Ending and won the IC Title.
Winner and NEW IC Champion: Big E