Matt Riddle and Star Wars are apparently the perfect combination for a parody t-shirt. If you add in Riddle's reported heat on the main roster then this makes for a pretty great mash-up.
Matt Riddle recently shared a picture of a fan wearing a t-shirt that was not officially licensed by WWE. The Original Bro tweeted out two images of this t-shirt along with a caption reading: "Stallion shirt by a fellow Stallion @Domundead87."
The front of this t-shirt says "Matt Riddle: A New Bro" done up in the same style as Star Wars: A New Hope. The back of this non authentic WWE NXT merch is pretty noteworthy. You can read the text featured on the back below.
Episode IV, A NEW BRO. It is a period of civil war. Rebel bros, striking from an NXT base, have won their first victory against the evil main roster. During the battle NXT spies managed to steal secret plans to the Main Roster's oldest weapon, GOLDBERG, an over-rated ex-WCW Steve Austin wannabe with enough power to go about 3 minutes per match. Pursued by the Main Roster's Twitter police, Matt Riddle hits pears and jack-knives the likes of which GOLDBERG can only dream of.
Odds are this t-shirt won't be popping up on the WWE Shop any time soon. It's a shame because it's a better shirt idea than the one they recently threw on the shop for Becky Lynch.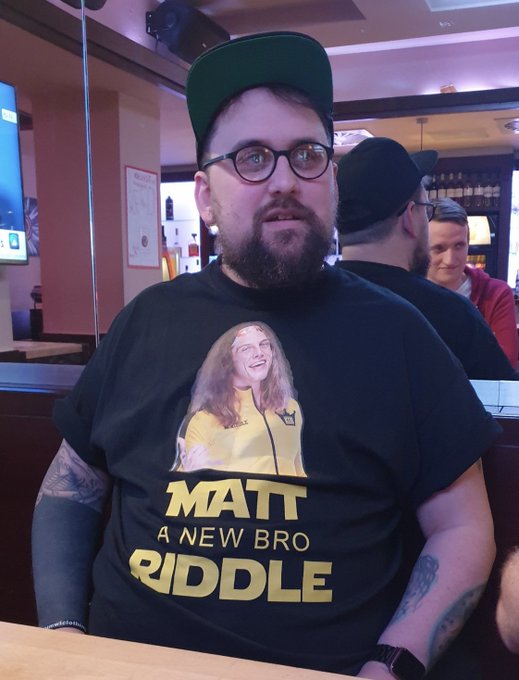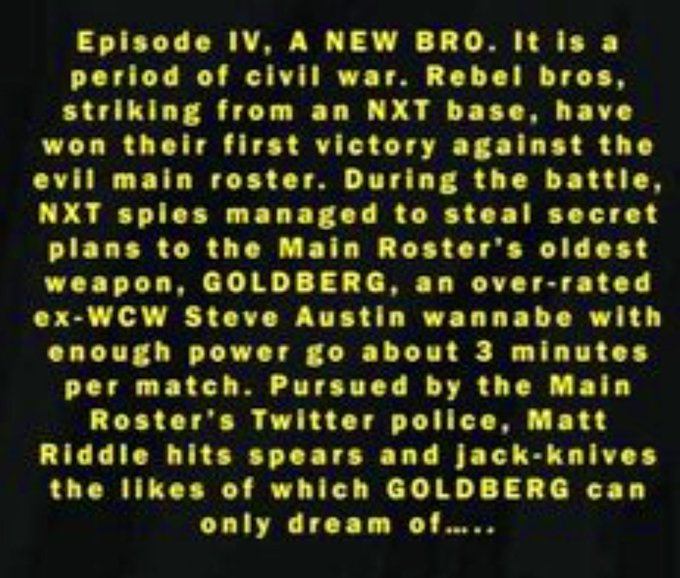 If you use the above transcription credit Ringside News